CrossFit® is a lifestyle that is characterized by safe, functional, and efficient exercise, sound nutrition, and community. You can use CrossFit to accomplish any goal whether you're looking to improve your health, overall wellness, or achieve peak athletic performance.
CrossFit is for Everyone – From seasoned athletes to those just starting their fitness journey!
What Does a
CrossFit Workout Look Like?
---
All workouts start with a prescribed weight/progression and are adjustable to your skill-level. Every day is different but CrossFit workouts follow the same general flow.
Overview & Warm-Up
---
The coach will go over the day's workout and then lead a warmup designed to get your heart rate up and target the specific movements that you'll be attacking that day.
The warm-up includes a review of all specific lifts and movements for the workout and points of performance to keep in mind.
Strength & Skill Work
---
After warming up, the workout will usually include strength and/or skill segment where you'll perform a specific lift or work on a specific skill.
These are programmed in "cycles" where we work on specific areas for several weeks to improve performance in a specific area.
Workout of the Day
---
The primary workout of the day (also known as the WOD or MetCon) begins when the coach starts the timer. This typically includes a combination of cardio, lifting, and functional movements performed at high intensity for time and/or volume
(How fast can you finish? How many rounds and reps can you do?)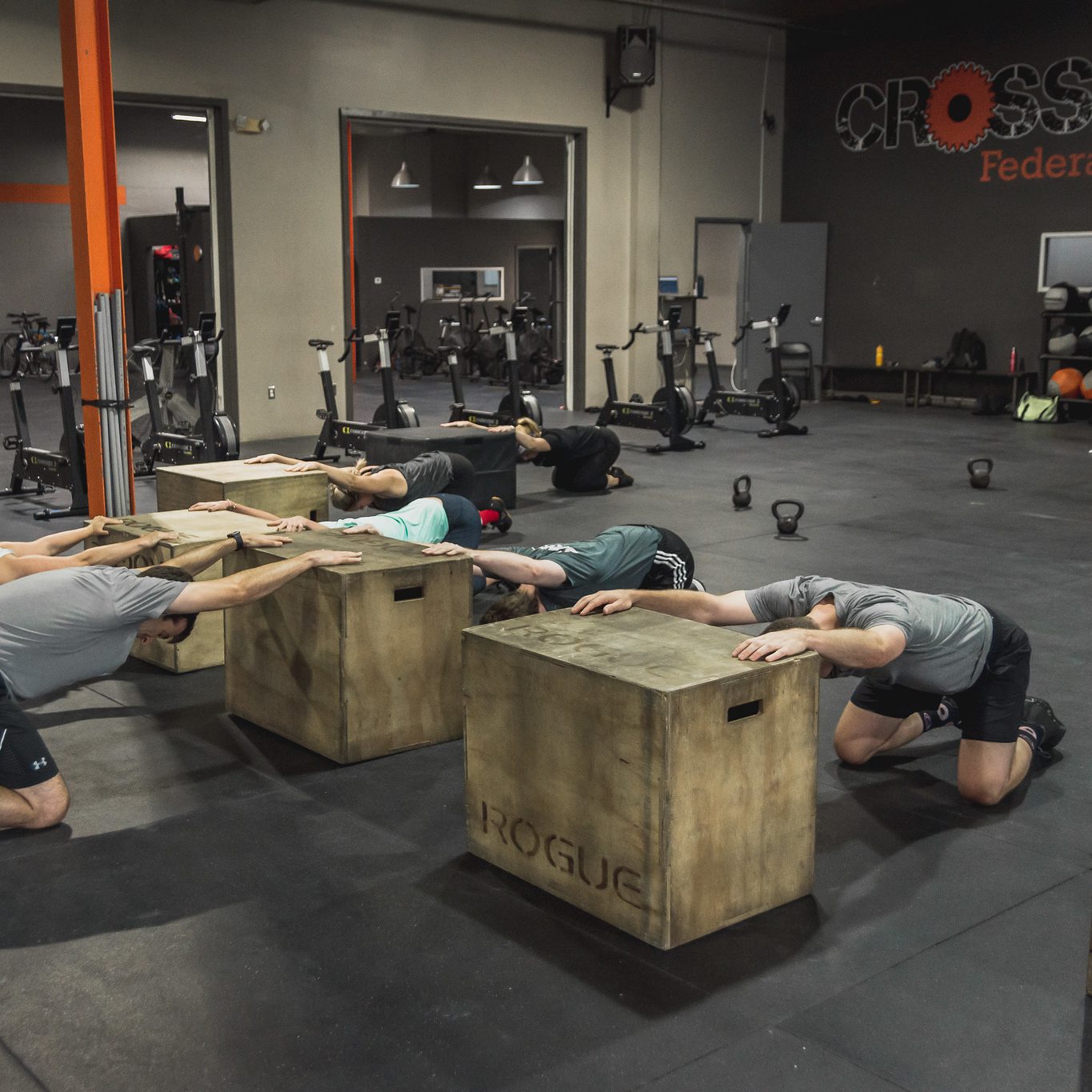 Cool Down & Stretch
---
After the workout, you'll be gassed but it's important to stretch and cool down properly.
The coach will lead you through a few stretches to target the areas that you just worked on.
CrossFit
Benefits
---
Constant Variation
Different workouts every day to hit all muscle-groups and domains of movement
Functional Movements
Efficient, safe movements similar to what you do every day in normal life
High Intensity
Workouts performed at intensity that will push you and help you achieve new levels
Built-In Motivation
Motivating, community-like atmosphere where everyone is rooting for you to do your best
Expert Coaching
Classes led by expert coaches that teach proper movements while promoting safety
CrossFit
FAQ's
---
CrossFit is a combination of workouts performed at varying intensity levels developed to help you achieve your goals no matter how old you are or what your fitness background is. At Industry Athletics, CrossFit classes are coached by certified professionals in a motivating, community-like atmosphere.
CrossFit is very safe. At Industry Athletics, our credentialed coaches are trained to teach you how to move properly and avoid injuries while achieving intended results.
No. CrossFit is what will get you in shape. Every movement and workout can be scaled to meet your personal needs and help you get started no matter what your fitness level or history is. All workouts are designed to help you succeed and achieve your goals no matter who you are or where you've been.
CrossFit is for everyone. Whether you're just getting started with your fitness journey or if you're a seasoned athlete, Crossfit is highly adaptable to help you achieve your goals. This also applies to people of all ages. Bottom line – if you're looking to improve your overall health and fitness, CrossFit is a great way to do so.
When you show up for your first CrossFit class, you only need to bring a water bottle, athletic shoes and clothing and a positive attitude. We provide everything else that you'll need for the workout.